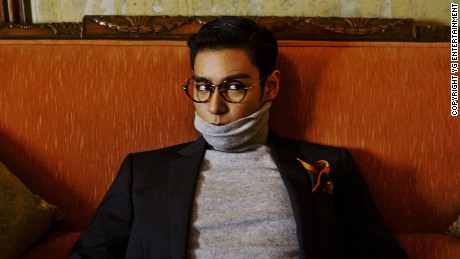 Hong Kong (CNN)A Sotheby's auction guest-curated by Korean pop star T.O.P. pulled in $17.4 million (HKD$136 million) on October 3, exceeding pre-sale high estimates and setting multiple auction records.
'Infantry', a 1983 painting by the late American artist Jean Basquiat, was the evening's top lot out of the collection of 28 Asian and Western contemporary artworks, realizing $5.98 million.
A commissioned work by Japanese artist Kohei Nawa also sold for $72,115 ($562,500 HKD), seven times the high-estimate projected by Sotheby's.
Seven of the top 10 works sold to private Asian buyers whose names were not disclosed.
The success of the evening was largely thanks to its unlikely star, K-pop icon T.O.P of South Korean boy band Big Bang. An avid art collector, T.O.P curated the auction and helped Sotheby's reach a younger demographic with hype-generating posts to his 5.8 million Instagram followers.
Curated by T.O.P #TTTOP @Sothebys in Seoul
The auction highlighted the spending power of millennials in Asia, as well as the power of celebrity-endorsed social media, especially when it comes to art.
In China alone, the consumption rate of people between the ages of 18 and 30 is growing at 14% a year, according to the Boston Consulting Group, double that of those age 35 and older.
The importance of drawing in young collectors in Asia is not lost on Yuki Terase, a contemporary Asian art specialist at Sotheby's Hong Kong.
"As much of 40 percent of new clients that transact with us for the first time in Asia are young collectors (those being under 40 years old)," Terase says. "So it's a very significant phenomenon that we witness in Asia that is truly notable and influences the entire art world."
Originally found athttp://edition.cnn.com/